Team
Our team combines complementary skills and experience in science, project management, quality assurance and business administration.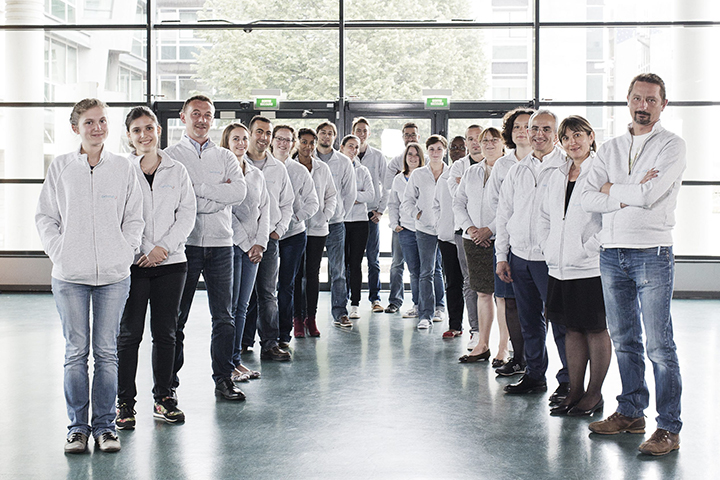 Management Team
Serge Braun
Pharm.D./ Ph.D., President
Serge Braun, PharmD, PhD started his career with traineeships in France and in USC (Los Angeles). Following a first 10-year period in public institutions he joined for an additional 10 years Transgene (Strasbourg, France) where he became Vice-president Research and developed his career in the field of gene therapy of genetic diseases and of immunotherapy of cancer. He was co-founder of Neurofit, a contract research organization specialized in preclinical testings of both the central and the peripheral nervous system. He was Vice-president of Alsace BioValley, the tri-national initiative, for the development of a major biotech cluster in Europe. He joined AFM-Telethon (the French Muscular dystrophy association) in 2006. He is also scientific expert or member of the Scientific Board of different state organisms, non-profit associations, VC funds, biotechs and bioclusters, and reviewer of major journals. Serge is currently and remains CSO of AFM-Telethon. Serge was appointed as president of GenoSafe in 2013.
Jean-François Col
CEO
Jean-François Col holds a Master Degree in Genetics, Immunology, Pharmacology and Bio-Engineering from Lyon I Sciences University, France.
He started his career in conducting clinical research in oncology related to multi-drug resistance at Pasteur Research Institute – in partnership with Hospital Edouard Herriot, Lyon. Following a first 12-year of new business development activities in discovery technologies across Europe, he progressed his career through Baxter covering homecare services for rare diseases. Then he joined Covance, the global provider in preclinical, laboratory and analytical services. Lately, he moved to clinical trial world  for an additional five years at Quintiles IMS (Saint Ouen, France) where he became Director of Business Development for full service clinical trial offers to help emerging biotech companies mainly focused on rare diseases and gene therapy products.
He was appointed as Chief Executive Officer of GenoSafe in January 2017.
Vincent Zuliani
Business Development Director
Vincent holds a MSc degree in Applied Microbiology and Biological Engineering from the University of Paris VI. He completed his educational profile with a program in "Professional Marketing Management" at the Paris International School of Management, and a "leadership of SME" Program at the IFG. After finishing his scientific training at UCSF (University of California, San Francisco) he held various research positions in the life science industry. Prior to his appointment at GenoSafe as Business Development Director in 2005, Vincent was responsible for the management of gene therapy production projects at Genethon.
Jean-Brice Marteau
Ph.D. Group Manager, Study Director
Following a Master degree in Clinical Pharmacology and Drug Metabolism at the Faculty of Pharmacy of Nancy, Jean-Brice obtained his Ph.D. in Genetic Epidemiology in 2005. He then worked as a research engineer in the field of chronic lymphocytic leukemia at the Institute of cellular and molecular radiation biology from the CEA's Life Science Division and as a researcher and project manager in the cardiovascular domain at INSERM. He then worked for a CRO as a molecular biology group leader in charge of the development of viral safety testing. Jean-Brice joined Genosafe in 2013 as a group manager and study director.
Laurence Jeanson-Leh
Ph.D. Group Manager, Study Director
Holder of a Master degree in Pharmacology from the University of Nice Sophia-Antipolis, Laurence obtained her Ph.D. in Life and Health Sciences in 2004 at the Ecole Normale Supérieure of Cachan following her work on HIV replication. She then joined the R & D department of Genethon as a research fellow and led various projects on immune deficiencies and muscular dystrophies. Specialized in molecular biology, vectorology and gene therapy, Laurence joined Genosafe in 2014.
Sabrina Triffault
Ph.D. Group Manager, Study Director
Holder of a Master's degree in in-depth immunology from the Pasteur Institute in Paris, Sabrina obtained her Ph.D in basic immunology in 2007 at the University of Angers. During her different post-doctoral fellowships, she addressed multiple aspects of immunology: innate immune response, development of antitumor immunotherapies, and study of the immune response against gene therapy vectors during last position. Sabrina joined GenoSafe in 2015.
Hasnae Niang
Quality Assurance Manager
Hasnae holds a Master degree in Control and Quality Assurance for gene and cell therapy products obtained at the Faculty of Pharmacy of Paris XI and a Magistère (MSC) in biotechnology at the Faculty of Science in Paris XI. She worked for over 10 years in several companies (Biotechs, CRO, CMO) in Quality Assurance department in charge of implementation and monitoring of quality systems (GLP, GCP, GMP, ISO 17025, ISO 13485, 21 CFR part 820, etc.). She also hold a MBA in Responsible Management (innovation and responsible investment) obtained at Audencia business school. Hasnae joined Genosafe in 2015.
Séverine Pouillot
Ph.D. Collaborative projects Officer
After a PhD work on the validation of transfer methods of human embryonic stem cells for the cardiomyopathy associated to Duchenne muscular Dystrophy therapy, Séverine has joined Genosafe in March 2008. She is in charge of national and European collaborative projects in which Genosafe is involved.
Aurore Lacroix
Regulatory Affairs Officer
Following an MSc in Neurobiology, Aurore obtained a Master in Regulatory Affairs at the Faculty of Pharmacy of Lille and a Master in Pharmaceutical Marketing at the Faculty of Pharmacy of Paris XI. She has over 8 years of experience in Regulatory Affairs. She worked 3 years in Toronto (Canada) where she obtained Certificates in Canadian and US laws and Good Manufacturing  Practices (GMP) . She worked for a Biotechnology Company specialized in oncology products (antibodies coupled to a toxin) where she was responsible of Intellectual Property Department. Aurore joined Genosafe in November 2013 as Regulatory Affairs Officer.
Consultant
Federico Mingozzi
Ph.D. Consultant in immunology
Federico Mingozzi received his Ph.D. from the University of Ferrara in Italy. He spent over ten years in the United States at the Children's Hospital of Philadelphia and University of Pennsylvania where he worked at the development of gene therapies based on the adeno-associated virus (AAV) vector. In his early work, Federico characterized the mechanisms of immune tolerance induction mediated by AAV vector liver gene transfer. More recently his research focused on the clinical development of AAV vector-based gene therapies for inherited diseases and on the study of immune responses to AAV vectors in human trials. He performed immunomonitoring studies in several AAV gene transfer clinical trials including hemophilia B, Leber's Congenital Amaurosis, lipoprotein lipase deficiency. He is now Associate Professor at the University Pierre and Marie Curie, Team Leader at Genethon, and consultant for GenoSafe. In his current position Federico continues to work at the development of gene therapies for inherited diseases and he studies immune responses to AAV vectors in preclinical models and in clinical trials.